Contact us
We are located in the south-western part of Germany. You can contact us for all inquiries under the following address: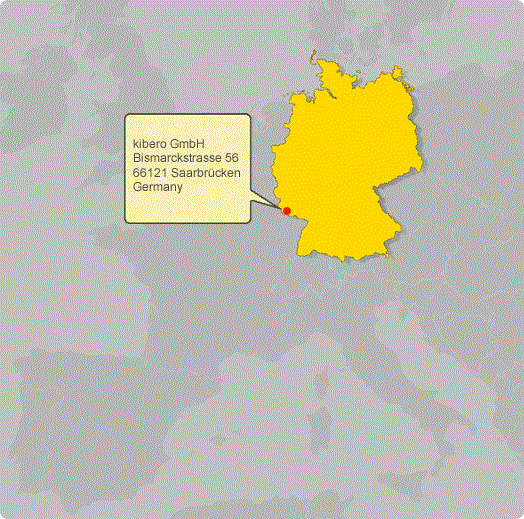 kibero GmbH
Bismarckstraße 56
66121 Saarbrücken
Germany
Telephone: +49 681 686 12613
Fax: +49 681 686 11694
E-Mail: info@kibero.com
Web: www.kibero.com, www.kibero.de, www.kibero-gmbh.de
We are looking forward to hearing from you.
Distributors
China & Hong Kong

Life Science Applications

Biotimes Technology Limited

Shanghai:
Room 905, Building 1, 1647 Zhangyang Road,
Pudong District, Shanghai, 200135
Hong Kong:
Biotimes Technology Limited
Room 1501(646), 15F Spa Center 53-55, Lochhart Road,
Wanchai, Hong Kong
Telephone: + 8618 9186 76051
E-Mail: qishangwen@biotimestech.com
Web: www.biotimestech.com


Industrial Measurement Applications

Suntesting Technology Co. Limited

Beijing:
Room 307, Unit 2, Building 3, Meilifang
Shuangying road, Chao Yang District
Beijing, China (100022)
Telephone: +8610-51141978
Fax: +8610-84997021
E-mail: andy@suntesting.com
Web: www.suntesting.com
Hong Kong:
Room 512, Fuk Shing Commercial Building
28 On Lok Mun Street, On Lok Tsuen, Fanling, N.T.
Hong Kong
Telephone: +852-26762666
Fax: +852-26699261
E-mail: andy@suntesting.com
Web: www.suntesting.com
Japan

Tokyo Instruments Inc.

6-18-14 Nishikasai
Edogawa-ku
Tokyo, 134-0088
Japan
Telephone +81-3-3686-4711
Fax: +81-3-3686-0831
E-Mail: sales@tokyoinst.co.jp
Web: www.tokyoinst.co.jp
Korea

YSP Corporation

RM#902 Hallasigmavalley, 212 Gongdan-ro, Gumi-si,
Gyeonbuk, 39376
Korea
Telephone: +82-2-981-1144
Fax: +82-2-983-1144
E-mail: jhshin@ysp.kr
Web: http://www.ysp.kr