SASAM - Acoustic Microscopy Systems
Our SASAM® imaging systems provide highest imaging resolution with center frequencies between 400 MHz and 2 GHz. The systems are the unbeaten acoustic and photoacoustic imaging system champions in sensitivity and resolution for the investigation of biological samples.


SASAM UR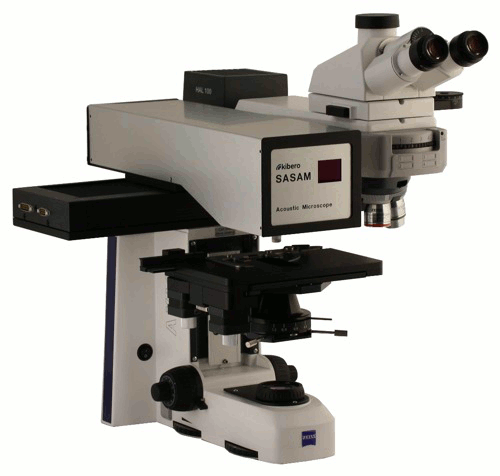 The SASAM® UR acoustic microscope is designed for the investigation and characterization of mechanical properties with spatial resolution down to one micron. Due to its optical configuration the system is especially suited for the investigation of optically opaque samples and samples which are accessible from one side only.
Applications
- Life Sciences: Characterization of 3D tissue models, investigation of biopsies, regenerative tissue and bulk materials
- Material Sciences: Research and Quality Control on thin films, layered and composite materials, interconnection techniques and encapsulation of devices.


Download data sheets or request further information:




SASAM IN

The SASAM® IN acoustic microscope is designed for applications where inverted optical microscopy is benefical. It opens the possibility for synchronous acoustical and optical imaging of transparent samples enabling the investigator to correlate structural, biochemical and mechanical properties.


Applications
- Life Sciences: The system is ideal for measuring single cells and cell layers.
- Cell mechanics, volume, adhesion and differentiation properties can be assessed quantitatively and inner structures and properties of 3D systems can be characterized.


Download data sheets or request further information:

SASAM PH

The SASAM® PH module enables high resolution optoacoustic imaging. It consists of a pulsed solid state laser source, optical components for laser beam coupling and control electronics for integration into the SASAM® IN system. With our SASAM® IN system, and the confocal imaging technique with advanced optical light delivery based on single mode fiber coupling and diffraction limited illumination for confocal photoacoustic imaging, a photoacoustic spatial resolution of better than 5 μm is achieved. The use of a dual-wavelength kHz repeating Nd:YAG laser allows acquisition of photoacoustic 3D data sets within minutes.

In combination with the SASAM IN acoustic microscope the SASAM PH is an ideal tool for research in the field of material sciences, life cell imaging as well as molecular imaging of different contrast agents with resolution on the micrometer scale.

Download data sheets or request further information: