High frequency transducers
kibero`s high frequency transducers provide optimal configurations of your acoustic microscope for each particular application in
life sciences and industrial measurement. Based on epitaxially grown high efficiency zinc-oxide materials our transducer systems offer high bandwidth and optimal sensitivity.
SASAM lens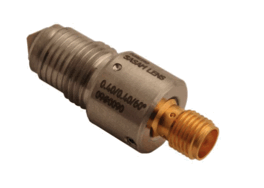 Imaging transducers are specified by acoustic center frequency, working distance and aperture angle allowing optimal matching of parameters to each application. The SASAM® Lens Series are compatible with the SASAM® UR and SASAM® IN microscope systems.
Download data sheets or request further information:





easySAM lens & easySAM PX lens

The easySAM lens systems are compatible with the easySAM microscopes. For photoacoustic imaging with the easyPAM system we offer our easySAM PX transducers.

Download data sheets or request further information:











Non-focusing transducers

For non imaging applications we offer our non-focusing NFT transducer series.

Download the data sheets or request further information: